The New Moon in Virgo arrives on the 20th September, bringing in a new moon cycle. The New moon is always a time for introspection when we may consider what it is in our lives that we no longer want and wish to let go of. Also, what new energies do we want to attract into our lives and what new direction do we wish to take? Now is the time to release things, thought patterns and behaviours that no longer serve us or for our higher good. As the Sun moves into Libra we welcome the Spring Equinox in the southern hemisphere and the Autumn / Fall Equinox in the Northern hemisphere.Whether it is releasing the old dead leaves of Fall or enjoying the fresh new opportunities and growth that Spring provides, now is the time for change.
The Tower represents a change that comes unexpectedly and out the blue. Often it results in chaos and upheaval, leaving feeling shattered and traumatized. The Tower is a reminder that if you don't take the initiative to change, the Universe or the higher power will inevitably force it upon you – and usually in such a way that brings chaos, stress and pain!! Not what you want!
Often when you are happy to remain in the safety of your comfort zone with your old thoughts, beliefs and patterns. But then, unexpectedly the "Tower" appears!  Your foundations and sense of security are shaken to the core and leaves you reeling in shock and disbelief.
It may appear as a job loss, ending of a relationship, health problems or financial failure. But is affects you on all levels- physically, mentally and spiritually.But the Tower is an awakening. It requires you to release yourself from the bondage and restriction of the "Devil" and look towards the Star for inspiration, transformation and freedom.
The Tower asks you to break down the structures that you have surrounded yourself with and change your mindset, thought patterns and limiting beliefs and behaviours. Now is the perfect time to embrace change and move forward with a positive attitude and mindset. This will require effort but is a necessary step on your spiritual path and in your personal growth and development.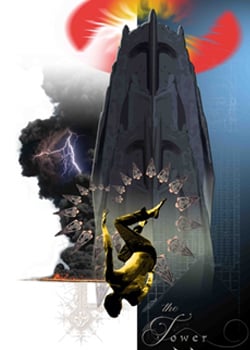 Oracle Card "Round And Round"
Synchronicity is amazing! The Oracle card that I drew was "Round and Round" from the "Wisdom of the Oracle" deck (Colette Baron Reid)! Just as in the Tower where you are confined and restricted by your limiting beliefs, this Oracle card suggests that you are going around and around in a continuous cycle.  Breaking from this pattern may be challenge and you may even feel that you are moving backwards!
Do you find yourself repeating patterns of the past, destructive or sabotaging behaviour?  It is time to free yourself from these old cycles. Refuse to repeat these patterns that you don't want to re-learn again and again.
Take personal responsibility for your thoughts and actions and make the decision to change them in the future. Seek a mentor if you are finding too hard to do it on your own. You have the power to break the cycle and stop going "Round and Round". You have the ability change, enjoy freedom and a life filled with abundance, prosperity and love.
"The price of doing the same old thing is far higher than the price of change."
– Bill Clinton
What action do you need to take with this New Moon and the changing of the seasons?
What cycles or patterns do you need to address and break free from?
To find out more about how Tarot can help you break free from negative cycle and change your mindset: