I chose the beautiful Thelema Tarot Deck for October's Tarot spread:
Blessings: The Three of Pentacles forecasts that you will be building solid foundations for the future this month. Collaborating with others and team work will produce great results. We are both teachers and students in life's journey and we can all learn from others. This month's blessing is that you are working hard, learning and laying down the ground for future growth and stability.
Challenges: October is a time of release and letting go as we move closer to Samhain at the end of the month. The Eight of Cups asks for you to let go of what no longer serves you and search for a deeper meaning and greater authenticity. Look beyond the superficial. Perhaps, the challenge this month is that even though you know that you have outgrown situation or person, letting go is difficult. Are there are habits or patterns that you wish to release, but find that there is still resistance?
Action to Take: The Seven of Cups begs you to use your imagination and get lost in fantasy. If you can't imagine it in your mind, you can never create it in your life. Let go and free your mind and your imagination. Allow yourself to dream, then take your dreams and turn them into goals. However, the first step is visualisation and imagination. This month is about release, letting go and spring cleaning. You have to imagine that life can be different if you are to successfully release and all change to happen.
The Late Harvest Full Moon
The Full Moon on the 6th October is the Late Harvest Full Moon, as well as The "Hunter's Moon". In the Northern Hemisphere, this is a time to enjoy and celebrate the season's harvest. This is also the time for hunting in preparation for winter ahead.
The Oracle card that I randomly drew from the Celtic Tree Oracle deck is the "Muin Vine". This card is associated with Dionysus, the Green Man, Pan, Lugh and Demeter, and brings things to fruition! It represents abundance, celebrations, fun, harvest and community. It reminds us that gratitude is important for a fertile outcome and that the cornucopia that is produced is the result of the sun, earth, water, air and Mother nature herself.
The Muin Vine (brambles, blackberries and all vines) brings the fruits of your labour, when you can celebrate the rewards of all your hard work. However, take time to give gratitude as nothing is achieve alone and we accomplish success with the help of other, teamwork and co-operation. Honour your community, family, friends and Mother Earth.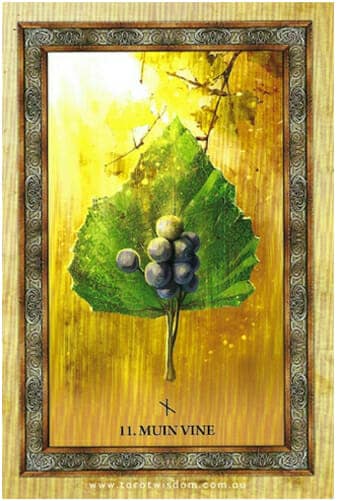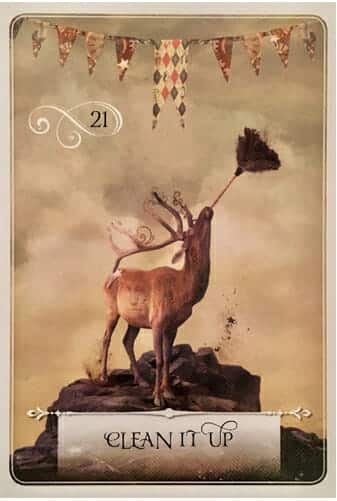 In the Southern Hemisphere, it is Spring, the season of renewal, rebirth and fresh starts, so there's no better time than now to spring clean! This means not only decluttering and cleaning your house and physical space, but also consider a "Spiritual Spring Clean". Think about what you no longer need in your life that needs to be swept away, or what area of your life needs refreshing.
Call upon the energy of the Four Suit / Elements to help you focus on what is important in all aspects of your life:
Wands:
List 5 things that you are passionate about. When was the last time that you did these things?
List 5 new exciting gaols that you want to focus on for the next year.
What do you do that is creative – writing, cooking, music, dancing, theatre or art???
Cups:
What emotions and feelings do experience the most – anger, resentment, impatience, defeat, despair? What do you need to do to turn these feelings into happiness, joy, achievement, and satisfaction?
Are you experiencing and feeling love in your life? What about your feelings and emotions towards yourself? Do you need to work on self-love, self-forgiveness and self-acceptance?
Start a Gratitude Journal, as it is the fastest way to appreciate what you already have!! Being grateful attracts more of the same.
Swords:
Is it time for you to change your mindset? Focus on releasing old thought patterns and limiting beliefs that are blocking you from living life to the fullest.
If there are decision that you need to make and have been avoiding, now is the time to decide. Indecision is mental clutter!
If stress and anxiety are clouding your mind, try meditation or yoga to de-clutter and clear your mind. When the mental chatter is quiet and you are calm, it is amazing how your creativity and clarity take over.
Pentacles:
Take a look at your physical environment. Is it time for some serious decluttering? What can you throw out or donate to charity? You need to release the old so that new, better things can come into your life.
Is it time for a detox? Nurture your physical body and make a commitment to exercise, sleep and eat well over the next month. Go for a walk in the fresh air or do some gardening to connect with the earth and nature.
Enjoy quality time your family, friends, pets and loved ones! Put technology, Facebook, Instagram and the mobile away for at least one day and appreciate what is really important in your life!
The Oracle card, "Clean It Up", is from the "Wisdom of the Oracle" deck by Colette Baron Reid.To find out more about how Tarot can help you change your mindset check the "Healing" page on the website.