During this time of Samhain / Halloween, I wanted to acknowledge two amazing people who have passed and sadly, are no longer with us…. Arthur Edward Waite and Pamela Coleman Smith. Without the magnificent collaboration of these two incredibly talented and gifted individuals, Tarot would not exist, as we know it today.
The original Rider Waite Tarot Deck was first published in 1909 by William Rider & Son of London and to my knowledge, only three of the original decks are in existence today.
I still find it incredible that the Bohemian, artistic and free-spirited Pamela could team up with Arthur, a serious scholar, academic, mystic and member of the Hermetic Order of the Golden Dawn, and that these two different individuals could even work together!
But somehow, like the Temperance card, these two opposite personalities, like fire and water, created their own blend of magic and alchemy that produced a timeless masterpiece. Their creation, the Rider-Waite-Smith Tarot Deck, transformed the Tarot world and formed the basis of all the modern Tarot decks that we know, love and enjoy today.
For many years the deck was referred to the "Rider-Waite" Deck, no doubt due to the sexism at the time, and Pamela Coleman Smiths' contribution was largely ignored. Today, the Tarot deck is commonly referred to as the Rider-Waite-Smith Tarot (RWS) acknowledging Pamela's valuable and indisputable contribution.
Pamela, or "Pixie" as she was commonly known, had a life-long interest in the mystical and esoteric. She was an artist and theatre designer in London when she befriended Bram (Abraham) Stoker, the author of "Dracula", as well as William and Jack Yeats who introduced her to the Hermetic Order of the Golden Dawn. Pamela joined the Order of the Golden Dawn in 1901, when she went on to meet Arthur Edward Waite and so history began.
Arthur was an American, who was initiated into the Hermetic Order of the Golden Dawn in 1891. He was a poet, mystic, and Freemason with a tremendous thirst for knowledge. Arthur was a prolific writer on many occult subjects – Kabbalah, Alchemy, Rosicrucians, Ceremonial Magic, Legends of the Holy Grail and Freemasonry. Many of his books are still in print to this day. However, his greatest contribution, along with Pamela, was the Rider-Waite Tarot Deck.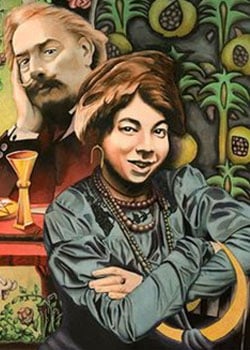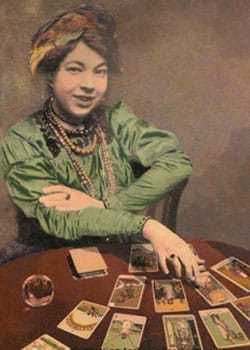 In 1911, shortly after their Tarot deck was published, Pamela converted to Catholicism. After World War 1, Pamela received an inheritance from an uncle that enabled her to buy a house in Cornwall, where she established a home for Catholic priests. Pamela never married and died penniless and unrecognised, in Cornwall in 1951. After her death, all of her personal belongings, including her paintings and drawings, were sold at auction to payoff her debts.
I find it incredibly sad that Pamela was never fully recognised at the time for her unbelievable and lasting contribution to Tarot. However, in 2009, to mark the Centennial of the first publication of the Rider Waite Tarot Deck, the commemorative Rider-Waite Tarot deck was published, acknowledging Pamela's contribution to this great Tarot Deck. Now, the deck is generally referred to as the "Rider-Waite-Smith" Tarot Deck, honouring her work.
My Angels and Spirit Guides were certainly with me the day I visited Camberwell "Trash & Treasure" Market in Melbourne a few years ago, when I picked up this Vintage 1950's/ 1960's Tarot Deck and Book, "Tarot Revealed, A Modern Guide to Reading the Tarot Cards" by Eden Gray, published in 1960 by L.N.Fowler & Co. in London. I adore and treasure them both. They transport me back in time, and I can imagine society and culture at the beginning of the 20th Century when the Order of the Golden Dawn, Sigmund Freud and Carl Gustav Jung were investigating psychology, the power of the mind, esoteric wisdom and knowledge…. when the RWS Tarot Deck was born.
Prior to the Golden Dawn and the Freudian/Jungian movement, Tarot had been based largely on the 15th Century Marseille and Visconti-Sforza Tarot decks. It was only with the creation of the Rider-Waite -Smith Tarot Deck that Tarot embraced a more psychological interpretation of the cards.Since then, all modern Tarot Decks, with the exception of Oracle Cards, are based on the Rider-Waite-Smith deck and we owe much to these two talented individuals.
In 1971, U.S. Games bought the rights to the RWS Tarot deck, published it under the title The Rider Tarot Deck and today the still have the rights to all the images. More recently, US Games also acquired the rights to the original and commemorative Tarot Decks, so in effect, we need to pay US Games the right to use these images now and forever!!
However, the legacy that Arthur Edward Waite and Pamela Coleman Smith have left, is not lost. I know that they are watching over us and are thrilled that their "gift", the Rider-Waite-Smith Deck, has transformed the Tarot community, forever. Their legacy lives on, eternally!
I acknowledge them both and sincerely give thanks!!
Blessings,
Natasha XX
"Between Worlds" Oracle Card
This is a time when you must not assume anything. This is a time of transition., learning the lessons of the Past and focusing on what you want to be. You are between Worlds right now, within the Matrix of the Divine Consciousness which is far greater than our own thoughts, beliefs, desires and fears. The seeds have been planted and now you must wait and trust. Now is a time for curiosity, trust, timing and luck. Let go and discover what the Universe and Spirit has in store for you.